THE AMERICAN SOCIETY OF CINEMATOGRAPHERS
PROUDLY ANNOUNCES THE LAUNCH OF A
UNIQUE, NEW SEMINAR SERIES. . .
THE ASC BREAKFAST CLUB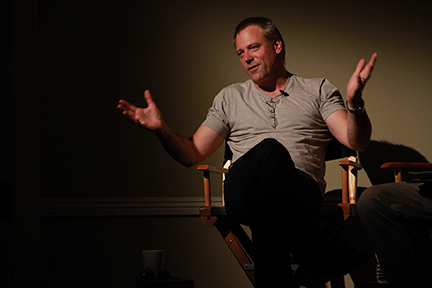 Wally Pfister, ASC

(4 time Oscar nominee and recipient for Best Cinematography for Inception, Dark Knight Rising, Memento, Insomnia, Batman Begins)

photo by Matt Turve
Los Angeles, CA. -- The American Society of Cinematographers cordially invite those who enjoy the finer points of filmmaking to the most important meal of the day, with the launch of the ASC Breakfast Club. Slated as a regular series, taking place throughout the year, this is a unique opportunity for amateur filmmakers and lovers of cinema alike to join ASC cinematographers for a light breakfast and a mind-blowing excursion into the psyches of the men and women who make movie magic happen. Each seminar is introduced by a presentation of film clips of selected scenes while discussing that Cinematographer's creative approach to the project and the evolving role of the cinematographer within the industry, followed by a lively, no-holds-barred Q&A session, where no filmmaking secret will be left unexplored.

Chris Manley, ASC (multiple ASC and Emmy Award nominee for the hit television series Mad Men and CSI: NY)

photo by Matt Turve

Rodrigo Prieto, ASC
(Oscar nominee for Best Cinematography for Brokeback Mountain, Amores Perros, Frida, 8 Mile, Wall Street: Money Never Sleeps)
photo by Isidore Mankofsy, ASC

Dean Cundey, ASC
(multiple Award nominee for Apollo 13 and Who Framed Roger Rabbit, and who has famously worked with filmmaker
John Carpenter five times on Halloween, The Fog, Escape From New York, The Thing, and Big Trouble in Little China)
photo by Matt Turve

Advance tickets to each fortifying and insight-enriched installment are available in the ASC Online Store at www.theasc.com, with a special discounted rate for Friends of the ASC subscribers. Tickets are first-come, first-served. If seats are still available on the morning of the event, tickets will be sold at the door. The ASC Breakfast Club seminar series takes place at the ASC's esteemed headquarters, known affectionately as "the Clubhouse," which has become a repository for the world's finest collection of cameras, lenses and other relics of early motion picture history, all donated by members and friends of the ASC. In addition, a unique library of books, photos and other historical documentation and memorabilia are also housed at the site at 1782 North Orange Drive Hollywood, CA 90028.

The seminar series is recorded live and eventually streamed on the ASC website, available to those who are Friends of the ASC subscribers.

---
All contents © 2023 Creative Talent Communications.
All rights reserved.